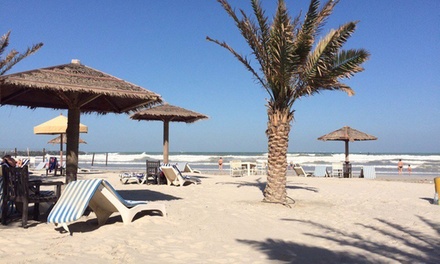 Price: AED229.00
Value: AED322.00
Discount: 29%
You save: AED93.00
Description
The Hotel
Set on the shore of the Persian Gulf, the Ajman Beach Hotel offers visitors an unlimited access to the beach and swimming pool, as well as an easy access to the Ajman Museum and the Al Zahra Shopping Center. There is also an in-house beach club, providing fun-filled activities on the sandy beachfront, as well as fitness facilities. The pool, kids' pool and hot tub are temperature-controlled. Activities such as table tennis and beach volleyball can be enjoyed at the hotel, while an array of exhilarating water sports can also be arranged on request.
All rooms are fitted with showers and bathtubs, air conditioning and TVs, while hairdryers and ironing gear are provided on request.
The on-site facilities include room service and two restaurants serving international and regional specialities, one boasting a sea view.
Groupon's Guide To Ajman
Situated along the Persian Gulf, Ajman is characterised by undefiled white sand beaches teeming with vibrant local culture and a peaceful atmosphere, creating a pleasurable holiday experience for tourists and business travellers alike.
Originally built as a fortress, Ajman Museum reveals local traditions and displays artifacts, tools and utensils as reminders of old times. Sunny moments may be spent on the Ajman Beach, where travellers may enjoy sunbathing, while commercial and cultural areas are in close proximity to this scenic beach.
Options
Option 1: stay in double room with a city view
AED 229 for 1 night (instead of AED 322)

AED 309 for 1 night with dinner/iftar (instead of AED 502)

AED 455 for 2 nights (instead of AED 644)
AED 615 for 2 nights with dinner/iftar (instead of AED 1,004)
Option 2: stay in a double room with a sea view
AED 239 for 1 night (instead of AED 345)

AED 319 for 1 night with dinner/iftar (instead of AED 525)

AED 475 for 2 nights (instead of AED 690)
AED 635 for 2 nights with dinner/iftar (instead of AED 1,050)
Ajman Beach Hotel
Sheikh Rashid Bin Humeed Al Noimee St,Al Nakhil 2

Terms and Conditions
Cancellation Policy: No modification or cancellation allowed after booking confirmation. Bookings are non-refundable and non-transferable once confirmed. Validity: Valid between 12 May-13 Jun 2018. Price for 2 people. Booking: Must book by 11 Jun 2018 and min. 48 hours in advance. Booking required by email: [email protected] or [email protected], and subject to availability. Please attach your voucher to the e-mail and provide your full name and preferred date of stay. For more information, please call: 06 742 3333. Original voucher must be presented upon check-in. The IDs of all guests, including children, are required at the time of check-in. Limit of 5 vouchers per person. 5 vouchers can be bought as gifts. Other Information: The hotel is located in Ajman, UAE. 5% VAT, city tax, and service charge included. Valid for stay in a double city or sea view room for 2 people. Please note that during Ramadan, breakfast and dinner can be exchanged for suhoor and iftar. Additional persons: Either 2 children up to 12 years of age or one adult may stay in the room, with an extra bed. Children up to 5 years old stay free of charge including meals as per parents' meal plan. Children aged between 6 and 12 may stay for AED 50 per child per night including breakfast or for AED 75 per child per night including half board meal plan. Adults aged 12 and over may stay for AED 75 per person per night including breakfast or at AED 115 per person per night including half board meal plan. Original values based on stays in a double city and sea view rooms between 12 May-13 Jun 2018. Limited availability for these dates. Original values verified on booking.com on 11 Apr 2018.