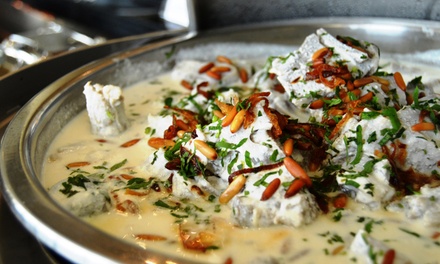 Tuck into a selection of international specialties, seafood and theme night menus, such as Arabian, Indian and Tex-Mex
Price: AED85.00
Value: AED175.00
Discount: 51%
You save: AED90.00
Description
Choose from Six Options
AED 85 for an international or theme night dinner buffet (Friday through Wednesday) for one (51% off)
AED 165 for an international or theme night dinner buffet (Friday through Wednesday) for two (53% off)
AED 315 for an international or theme night dinner buffet (Friday through Wednesday) for four (55% off)
AED 110 for a Thursday seafood dinner buffet with free-flowing soft drinks for one (50% off)
AED 215 for a Thursday seafood dinner buffet with free-flowing soft drinks for two (52% off)
AED 415 for a Thursday seafood dinner buffet with free-flowing soft drinks for four (53% off)
International and Theme night dinner buffets:
Monday and Wednesday is International and includes one soft drink per person
Sunday is Arabian themed, Tuesday is Tex-Mex, Saturday is Indian (no drinks included)
Seafood Night buffet is Thursday and include free-flowing soft drinks
Hilton Abu Dhabi
Hilton Abu Dhabi

Terms and Conditions
Expires 5 months after purchase. Limit 4 per person. No prior booking required. Please email voucher to [email protected] or call 026924247. Present Groupon on arrival. Valid only for option purchased. Dinner timing: 6:30pm – 10:30pm. International dinner buffet is served on Mon and Wed. Theme night dinner buffets are available: Sun (Arabian), Tue (Tex-Mex), Sat (Indian), Thu (seafood). Not valid during Ramadan. International/theme night dinner voucher not valid Thursday night. Printed voucher must be presented. See the rules that apply to all deals.