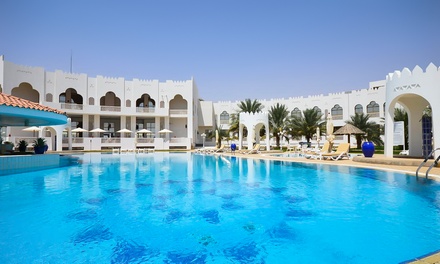 Price: AED219.00
Value: AED425.00
Discount: 48%
You save: AED206.00
Description
The Hotel
Located near the Mezairaa village, Liwa Hotel entices travellers with traditional decor, on-site pool, and picturesque surroundings of high sand dunes and the Rub' al Khali desert.
Relaxation can be enjoyed in air-conditioned rooms which come complete with flat-screen TVs and en suite bathroom amenities.
A mix of local and international dishes can be savoured at the on-site restaurant, and refreshing beverages can be sampled while relaxing on the terrace.
Groupon's Guide to Al Gharbia
Enveloped within the dunes of Rub' al Khali desert stretching as far as the eyes can see, Al Gharbia is the westernmost region of the Emirate of Abu Dhabi. The region's most popular destinations are the historic oasis town of Liwa, Sir Bani Yas Island, as well as Madinat Zayed, the capital city. Located around 170km away from the city of Abu Dhabi, Madinat Zayed is famous for its Al Dhafra Festival, a traditional souk, city mall with an array of shopping venues, as well as camel races and beauty contest, and other competitions involving falcons, classic cars, Arabian horses.
Options
Option 1: standard
AED 219 for 1 night (instead of AED 425)
AED 435 for 2 nights (instead of AED 950)
Option 2: with breakfast
AED 269 for 1 night (instead of AED 525)
AED 535 for 2 nights (instead of AED 1,050)
Option 3: with half board
AED 419 for 1 night (instead of AED 609)
AED 835 for 2 nights (instead of AED 1,218)
Option 4: with full board
AED 539 for 1 night (instead of AED 709)
AED 965 for 2 nights (instead of AED 1,418)
Al-Garbiya
Abu Dhabi Western Region – Madinat zayed

Terms and Conditions
Cancellation Policy: No modification or cancellation allowed after booking confirmation. Bookings are non-refundable and non-transferable to another destination once confirmed. Validity: Valid until 30 Apr 2019. Excluded dates/periods: UAE public holidays. Price for 2 adults and 2 children under 6 years old. Note: The swimming pool is currently under maintenance. Booking: Must book min. 48 hours before arrival and by 28 Apr 2019. Booking required by email: [email protected], and subject to availability. Please attach your voucher to the e-mail and provide your name, contact number, preferred date of stay and time of arrival. Limit of 5 vouchers per person. Vouchers can be bought to extend the stay or as gifts. Other Information: The hotel is located in Mezairaa, Abu Dhabi, UAE. 5% VAT included. Rates are subject to 3.5% tourism fee, 2% municipality fee and 10% service charge (of the room rate), and AED 10 municipality fee per room per night, payable to the hotel directly. No transfers included. Valid for stay in a deluxe room for 2 adults and 2 children under 6 years old, sharing the existing bedding. Additional persons: Max. 2 additional children under 12 years old can stay in the room free of charge when using the existing bedding. Extra bed will be subject to availability and an additional charge of AED 100, payable to the hotel directly. Children under 6 years old can dine free of charge; there is a 50% discount for children aged 6-12 years. Reference price verified on the merchant's website on 21 Jan 2019.