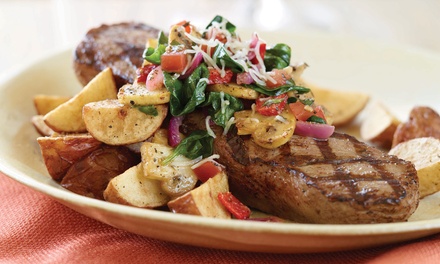 Up to four diners can tuck into a sizzling chicken, steak, or salmon platter paired with a drink; served at four locations
Price: AED49.00
Value: AED82.00
Discount: 40%
You save: AED33.00
Description
Choose from Nine Options
AED 49 for a chicken platter with drink for one (40% off)
AED 92 for a chicken platter with drink for two (44% off)
AED 184 for a chicken platter with drink for four (44% off)
AED 65 for a steak platter with drink for one (39% off)
AED 130 for a steak platter with drink for two (39% off)
AED 260 for a steak platter with drink for four (39% off)
AED 67 for a salmon platter with drink for one (26% off)
AED 134 for a salmon platter with drink for two (26% off)
AED 268 for a salmon platter with drink for four (26% off)
Chicken platter options:
Fiesta Lime Chicken: grilled fiesta-style chicken with zesty lime sauce, mexi-ranch and Jack-cheddar, served with crisp tortilla strips, seasoned rice and freshly-made pico de gallo
Santa Fe Chicken: breaded chicken stuffed with a mix of red peppers and cheeses with a creamy sauce, mashed potatoes and steamed vegetables
Country Fried Chicken: breaded boneless chicken breast, garlic mashed potatoes, country gravy and seasonal vegetables
Steak platter options:
Steakhouse Mushroom New York Strip 8oz (230 grams): chilli-encrusted 8oz New York strip, mushroom sauce and a fiery chilli spice, garlic mashed potatoes or baked potatoes and vegetables
Steak Florentine 8oz (230 grams): a staple from the grill with seasonal roasted red peppers, sliced mushrooms, onion, fresh spinach, garlic, rosemary and our homemade bruschetta mix, finished with parmesan cheese and served over fried red potatoes
Salmon platter:
Chipotle Lime Crusted Salmon: pan-seared salmon crusted with a chilli lime rub topped with a decadent mushroom sauce and served atop a bed of rice primavera
Applebee's
Sahara Centre – East Atrium, 2nd Floor –

Terms and Conditions
Expires 60 days after purchase. Limit 5 per 1, 2 or 4 people, may buy 5 additional as gifts. No appointment needed. Valid for option purchased only. Valid for dining in and take away. Not valid in conjunction with any other offers or promotions. For more information please call 025 664 333. Valid for the following Applebee's locations: Shk. Zayed Road- Dubai, Dubai Festival City Mall – Dubai, Al Ain Mall – Al Ain, Al Majaz – Sharjah. Groupon prices are inclusive of VAT where applicable. Printed voucher must be presented. See the rules that apply to all deals.