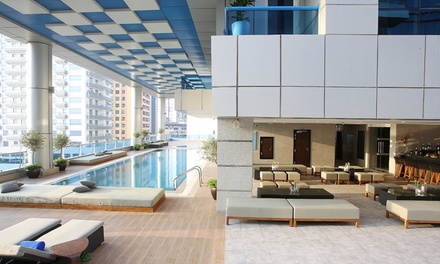 Price: AED270.00
Value: AED494.00
Discount: 45%
You save: AED224.00
Description
Check Availability Make a Booking
The Hotel
Boasting a scenic location close to the beach, Auris Inn Al Muhanna Hotel entices holidaymakers with four-star amenities and quick access to the attractions of Dubai. Guests can make the most of the outdoor swimming pool and the on-site gym or take a short ride to The Palm Jumeirah, Burj Al Arab or the Dubai Marina district.
Relaxation can be enjoyed in air-conditioned rooms which feature classic decor and come complete with satellite TV, hospitality trays, safes, and en suite bathroom facilities.
Arabic and international dishes can be savoured at the Didon restaurant, while Japanese sushi is available at the Ucci Sushi restaurant.
Groupon's Guide To Dubai
A glamorous city overlooking the Persian Sea, Dubai is famous for its tall, glistening glass buildings reaching far into the sky, large futuristic shopping malls and luxury lifestyle. Boasting impressive architecture, Dubai is a suitable place for revelling on the sandy beaches and in warm waters of the Arabian Sea and enjoying the vivid nightlife.
Guests may visit the Lost Chambers Aquarium and admire a labyrinthine network of aquariums that house thousands of exotic aquatic creatures, or even enjoy a scuba diving experience there. Rare gold and platinum may be admired at the Gold Souk, while dioramas that depict historic scenes and local life are displayed at the Dubai Museum, an 18th-century fortress located inside the Al Fahidi Fort. On Palm Jumeirah, offering miles of golden sands and crystal clear waters, tourists may enjoy sunbathing and water sports , while the desert areas of Dubai provide a good spot for safari exploration. Dubai has a tropical desert climate with hot and humid summers averaging highs around 41 °C, and warm winters with an average high of 23 °C.
Options
Option 1: in a premium room
AED 270 for 1 night (instead of AED 494)
AED 730 for 3 nights (instead of AED 1,399)
Option 2: in a premium room with lunch or dinner
AED 345 for 1 night (instead of AED 694)
AED 929 for 3 nights (instead of AED 1,999)
Option 3: in an executive one-bedroom suite
AED 335 for 1 night (instead of AED 660)
AED 905 for 3 nights (instead of AED 1,855)
Option 4: in an executive one-bedroom suite with lunch or dinner
AED 405 for 1 night (instead of AED 860)
AED 1,149 for 3 nights (instead of AED 2,455)
Auris Inn Al Muhanna Hotel
Al Fosool str., Tecom

Terms and Conditions
Cancellation policy: Bookings can be modified as per the hotel's availability, prior notice required is min. 72 hours. No cancellation allowed after booking confirmation. Bookings are non-refundable and non-transferable once confirmed. Validity: Valid from 1 May to 30 Sep 2018. Price for 2 people. Booking: Must book by 28 Sep 2018 and min. 48 hours prior to arrival. Mandatory booking required. Check availability before booking. Check Availability Make a Booking Enquiries to be made by phone: 04 556 0444 or by email: [email protected]. Can buy multiple vouchers to extend stay. Can be bought as a gift voucher with a limit of 5 per person. Other Information: The hotel is located in Dubai, UAE. 5% VAT and 20% tax and service charge are included. Rates are subject to AED 15 tourism dirham fee per room per night. During the Holy month of Ramadan breakfast and dinner can be exchanged for suhoor and Iftar. Valid for stay in a premium room or executive one-bedroom suite for 2 people, depending on option chosen. Additional Persons: Up to 2 children under the age of 12 may stay in room free of charge (sharing existing bedding), with breakfast included for children under 6 years old, and 50% discount on breakfast for children from 6 to under 12 years old. Baby cot can be provided free of charge, limit of 1 per room. Extra bed costs AED 150 per person, inclusive of breakfast, payable to the hotel directly. Original values based on stays in a premium room or executive one-bedroom suite until 30 Sep 2018. Limited availability for these dates. Original values verified on booking.com on 5 Apr 2018.