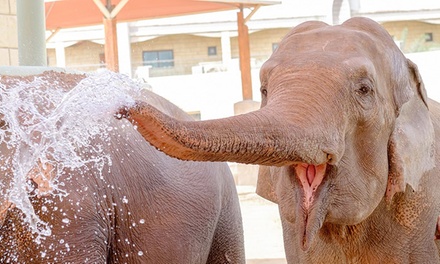 Customers can delight in a walk through a zoo with a view of various animals with optional feeding session or other activities
Price: AED30.00
Value: AED45.00
Discount: 33%
You save: AED15.00
Description
Choose from Four Options
AED 30 for a zoo entrance and an animal feeding for one (33% off)
AED 59 for a zoo entrance and an animal feeding for two (34% off)
AED 95 for a zoo entrance with five activities card for one
AED 190 for a zoo entrance with five activities card for two
Working Hours:
Weekdays(Sunday to Wednesday)- 9am to 8:00pm

Weekend (Thursday to Saturday) : open from 9:00am to 9:00pm
Below show/activity timings:
Elephant Encounter: 9:30am/11:30am/3:00pm/5:30pm/last show at 7:00pm- for weekends only

Tropical Bird Show: 10:00am/4:45pm

Sea Lion Presentation: 10:40am/4:00pm/6:15pm

Car driving adventure: according to zoo timings

Zoo zip and climb: 10:00am until 8:00pm for weekdays and 9:00pm for weekends
The activities card allows access to: elephant show | sea lion show | bird show | car driving adventure | zip and climb adventure

Emirates Park Zoo & Resort
12th Street, Al Bahia

Terms and Conditions
Expires 60 days after purchase. Limit 2 per 1 or 2 people, may buy 2 additional as gifts. No booking required. Valid for option purchased only. Excludes Eid, public holidays and special events. Valid for kids and adults, under 2s go free. Min.height for zip and climb activity: 100cm. Animal feeding consists of grass bundle on selective animals. Customers need to adhere to the rules and regulations of the zoo. For any further questions, please contact the merchant directly at [email protected] or by phone at 025 010 000. Valid Mon-Sun. During Ramadan valid Mon-Sun 4pm-10pm. AED 5 surcharge for weekends, paid directly to the merchant. Printed voucher must be presented. See the rules that apply to all deals. *Discount applies to selected options only.