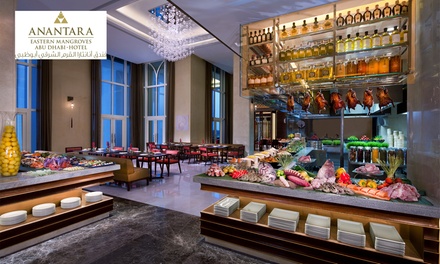 Up to six guests can join for a traditional Iftar at this five-star hotel restaurant, choosing from a selection of dishes
Price: AED89.00
Value: AED89.00
Discount: 0%
You save: AED0.00
Description
Choose from 10 Options
AED 89 for Iftar or Eid buffet with drinks for one child, weekday
AED 145 for Iftar or Eid buffet with drinks for one adult, weekday (27% off)
AED 285 for Iftar or Eid buffet with drinks for two adults, weekday (28% off)
AED 565 for Iftar or Eid buffet with drinks for four adults, weekday (29% off)
AED 845 for Iftar or Eid buffet with drinks for six adults, weekday (29% off)
AED 99 for Iftar buffet with drinks for one child, weekend
AED 175 for Iftar buffet with drinks for one adult, weekend (30% off)
AED 345 for Iftar buffet with drinks for two adults, weekend (31% off)
AED 689 for Iftar buffet with drinks for four adults, weekend (31% off)
AED 1,029 for Iftar buffet with drinks for six adults, weekend (31% off)
What time is Iftar in Dubai? In 2019, it can be held at 6.55 p.m. on the first day of Ramadan and at 7.09 p.m. on the last day of Ramadan. Catch this Iftar buffet deal early, so the entire family has something to look forward to during the day!
The blessed month of Ramadan is a special time for all of us – families and communities gather together, helping each other endure the fast and celebrating the breaking of it during Iftar. It's a time to share a prayer, a good word, a compliment, or a meal – and what better way to share it than an opulent buffet? Perhaps it's the time to call all siblings for a catch-up, or enjoy an evening with closest friends. Bring in children as well, so that they too share in the blessing of Ramadan. This Anantara Eastern Mangroves deal has a special child option with the traditional Ramadan drinks included.
Abu Dhabi
Eastern Mangroves Hotel & Spa

Terms and Conditions
Expires 7 Jun 2019. Eid dinner buffet options valid on 4, 5, 6, 7th June from 7pm – 11pm. House beverage package can be purchased directly from the merchant for the Eid buffet. Limit 3 per person, may buy 3 additional as gifts. Booking required by phone, contact 026 561 000. Prior booking/cancellation (subject to availability) at least 24 hours in advance. Iftar options valid only during Ramadan. Children policy: below 5 years eat free. 5 to 12 years require child option. Weekend option for Thu-Sat. Valid for option purchased only. Groupon prices are inclusive of VAT where applicable. E-voucher must be presented. See the rules that apply to all deals. *Discount applies to selected options only.