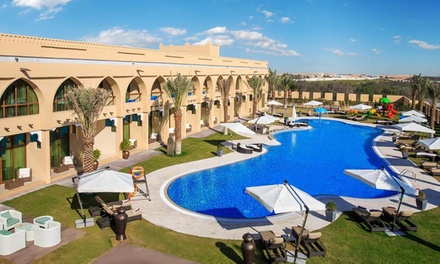 Price: AED399.00
Value: AED580.00
Discount: 31%
You save: AED181.00
Description
Check Availability Make a Booking
The Hotel
Enveloped in the desert scenery of Al Dhafra capital city, with dunes stretching as far as the eyes can see, the four-star Western Hotel Madinat Zayed allures visitors with a fusion of contemporary design and distinct Arabian architectural features. Guests can enjoy moments of relaxation at the hotel's sauna and take a dip in the outdoor swimming pool.
The hotel offers contemporary accommodation in tastefully decorated rooms which come complete with en suite bathrooms, flat-screen TVs, air conditioning and hot drink-making facilities.
Appetites can be satisfied at the hotel's restaurants which serve up Indian and international cuisine dishes, while the on-site bar and cafe offer an array of beverages.
Groupon's Guide To Abu Dhabi
Abu Dhabi is the capital and the second most populous city in the United Arab Emirates. Boasting a mix of traditional and modern architecture, it is one of the most visited cities in the region, with over two million tourists per year.
Holidaymakers may visit the famous Sheikh Zayed Grand Mosque Center, one of the most prominent architectural monuments in the world. The Emirates Palace is another major attraction, while shopping lovers may take advantage of the numerous shopping centres offering a variety of luxury products and souvenirs.
Options
Option 1: stay with breakfast
AED 399 for 1 night (instead of AED 580)
AED 749 for 2 nights (instead of AED 1,165)
Option 2: stay with half board
AED 549 for 1 night (instead of AED 780)
AED 949 for 2 nights (instead of AED 1,565)
Option 3: stay with full board
AED 649 for 1 night (instead of AED 780)
AED 1,099 for 2 nights (instead of AED 1,965)
AED 1,499 for 3 nights (instead of AED 2,950)
Western Hotel – Madinat Zayed
Madinath Zayed Town

Terms and Conditions
Cancellation Policy: Modifications allowed up to 48 hours before arrival and subject to availability; no cancellation allowed after booking confirmation; bookings are non-refundable and non-transferable to another destination once confirmed. Validity: Valid 8-14 Aug 2019. Price for 2 adults and 2 children under 6 years old. Booking: Must book by 12 Aug 2019 and at least 48 hours before arrival. Mandatory booking required. Check availability here and book here. Questions required by phone: +971 801 7777 or toll free 800 WESTERN (9378376). Limit of 5 vouchers per stay. May buy vouchers as gifts or to extend the stay. Other Information: The hotel is located in Madinat Zayed, Abu Dhabi, UAE. 5 % VAT included. Excluded: 2% municipality fee, 3.5% tourism fee and 10% service charge (of the total room rate), and AED 10 tourism fee per room per night, payable upon check-in directly to the hotel. Valid for stay in a superior room for 2 adults and 2 children under 6 years old, sharing the existing bedding. Children up to 6 years old can dine free of charge; children between 6-12 years have 50% dining discount.