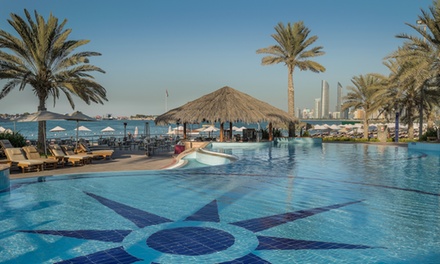 Swimming classes at five-star hotels across Abu Dhabi in three iconic resorts
Price: AED69.00
Value: AED120.00
Discount: 42%
You save: AED51.00
Description
Choose from Four Options
AED 69 for one swimming class at a five-star hotel of choice (43% off)
AED 279 for five swimming classes at a five-star hotel of choice (54% off)
AED 449 for 10 swimming classes at a five-star hotel of choice (63% off)
AED 529 for 15 swimming classes at a five-star hotel of choice (71% off)
The available hotels include: Sheraton | Le Meridien | Radisson Blu
Sheraton
The hotel offers a heated outdoor pool. Towels are provided, and the pool is open seven days a week from 8 a.m. till 10 p.m.
Le Meridien
This hotel has three hotels outdoor, the main one, one specifically for training and a kids pool. They are all heated and open throughout the week from 8 a.m. to 8 p.m.; towels are provided.
Radisson Blu
Boasting three outdoor pools, Radisson Blu is located along the beautiful Corniche.
Abu Dhabi
Radisson Blu Corniche

Terms and Conditions
Expires 90 days after purchase. Limit 5 per person, may buy 5 additional as gifts. Booking required by telephone, contact 026 970 272. Prior booking/cancellation (subject to availability) at least 24 hours in advance. Valid Mon-Sun. Swimming classes are usable across the Sheraton Corniche, Le Meridien and Radisson Blu AUH. Valid for option purchased only. Groupon prices are inclusive of VAT where applicable. E-voucher must be presented. See the rules that apply to all deals.