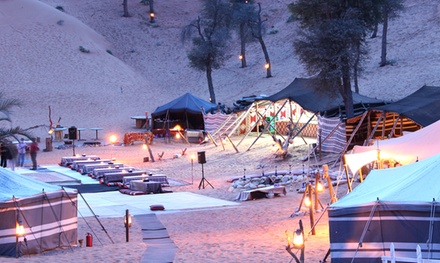 Price: AED390.00
Value: AED390.00
Discount: 0%
You save: AED0.00
Description
The Oasis
Resting amid the fine dunes of the desert expanses of Ras al-Khaimah, just a 15-minute drive from the airport and a 30-minute drive from Sharjah and Ajman, the Bedouin Oasis invites guests for a Bedouin experience by re-enacting the traditional ways of the ancient desert dwellers.
Keeping true to the long-established aesthetics of the old abodes, Bedouin-style tents dot the camp, some featuring adjoining baths with showers. In order to closely replicate the Bedouin lifestyle, the camp makes use of traditional lighting such as gas lights, candles and antique lanterns.
Groupon's Guide To Ras al-Khaimah
UAE's northernmost emirate is a treasure trove of diverse scenery ranging from lush oases to sandy beaches, and from arid deserts to pristine mountains, suitable for tourists searching for relaxation and outdoor activities.
In the Old Town of Ras Al-Khaimah, guests may visit an ancient mosque, a fishing harbour and the Al Hisn Fort, housing the RAK National Museum. Shopping enthusiasts may venture into the old souk for a traditional shopping experience, while high-end fashion items may be found at one of the four shopping malls in the city. Family fun may also be found at the Iceland Water Park, boasting the world's largest man-made waterfall, a 3000-square metre wave pool and many more attractions.
Ras Al Khaimah
Camp address : PB 17104, NEAR BANYAN TREE AL WADI RESORT, AL MAZRAA, RAS AL KHAIMAH

Terms and Conditions
Cancellation Policy: No cancellation allowed after booking confirmation. Bookings are non-refundable and non-transferable to another destination once confirmed. Bookings can be modified with min. 24 hours notice, subject to availability. Validity: Valid until 30 Dec 2019. Coupon valid all days of the week, subject to availability. AED 100 per day per adult supplement applies to public holidays stays, payable directly at the camp, for the following dates: 2 and 24 Dec 2019 and UAE public holidays. Price for 2 people. Booking: Must book min. 48 hours in advance and by 29 Dec 2018. Booking required by phone: 0502 274 319 or 0552 284 984 or by email: [email protected], and subject to availability. Please attach your voucher to the e-mail. Must show Groupon voucher on arrival. Can buy multiple vouchers to extend stay or as gifts. Max. 10 vouchers per person. Other Information: The camp is located in Ras al-Khaimah, UAE. 5% VAT and city taxes included. Valid for stay in an igloo-style, standard, nature view or premium tent, depending on option chosen, for 2 people. Additional persons: One child (in standard, igloo-style and nature view tents) or two children under 11 years old (in premium tents) may stay as additional guests in parents' tent. Charge for children between 5-11 years without an extra mattress in all category tents: AED 100/child per night (dinner and breakfast is included). Charge for children between 5-11 years with an extra mattress in all category tents: AED 150/child per night (dinner and breakfast is included) Extra bed charge for all above 11 yrs: AED 200/per person per night (dinner and breakfast is included) in premium tents (max. 2 additional); subject to availability.