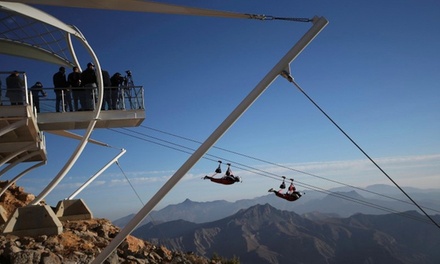 Price: AED869.00
Value: AED1,399.00
Discount: 38%
You save: AED530.00
Description
The Hotel
Situated in the Al Nakheel area by the creek, Citymax Hotel welcomes guests with contemporary-style accommodation and a spectrum of on-site amenities, including a rooftop pool, a modern gym and private parking. Guests will appreciate easy access to the free trade zone and the RAK exhibition centre, as well as the Jebel Jais mountains, which are a short drive away.
The spacious air-conditioned rooms are equipped with flat-screen TVs and fridges. Each boasts a private bathroom.
Guests can choose from a variety of dining options at four on-site bars and restaurants, including a 24-hour cafe, where guests can order a selection of beverages and snacks.
Jebel Jais Flight Zip Line
Thrill seekers can soar through the sky down from the Jebel Jais Mountain. Certified by Guinness World Records, the world's longest zip line flies the adrenaline junkies at up to 150 kilometres per hour 1,680 metres above the ground. The experience starts with a safety briefing and is supported by qualified safety guides.
Duration: approx. 1 hour
All equipment and safety instruction provided
Complimentary parking and transportation through the park area
Suitable for those with moderate fitness levels
Groupon's Guide To Ras Al-Khaimah
UAE's northernmost emirate is a treasure trove of diverse scenery ranging from lush oases to sandy beaches and from arid deserts to pristine mountains. It is a suitable destination for tourists wanting to relax or enjoy outdoor activities alike.
In the Old Town of Ras Al-Khaimah guests may visit an ancient mosque, a fishing harbour and the Al Hisn Fort, housing the RAK National Museum. Shopping enthusiasts may venture into an old souk for a traditional shopping experience, while high-end fashion items may be found at one of the four shopping malls.
Options
Please note that all options exclude Mondays and Tuesdays as Jebel Jais Zipline is not operating on these days.
Option 1: valid in April; Wed-Sun only
AED 869 for 1 night (instead of AED 1,399)
AED 1,069 for 2 nights (instead of AED 1,715)
Option 2: valid in May; Sun, Wed and Thu only
AED 1,075 for 1 night (instead of AED 1,725)
AED 1,269 for 2 nights (instead of AED 2,045)
Option 3: valid in May; Fri and Sat only
AED 1,029 for 1 night (instead of AED 1,945)
AED 1,409 for 2 nights (instead of AED 2,265)
Ras Al Khaimah
Bin Daher St – Ras al Khaimah

Terms and Conditions
Cancellation Policy: No modification or cancellation allowed after booking confirmation. Bookings are non-refundable and non-transferable once confirmed. Validity: Valid until 30 Apr or until 31 May 2019, as per option chosen. Please note that all options exclude Mondays and Tuesdays as Jebel Jais Zipline is not operating on these days. Price for 2 people. Booking: Must book min. 48 hours before arrival and by 28 Apr for April offers or by 29 May for May offers. Bookins required by phone: 043316199 or by email: [email protected]. Bookings are subject to availability. Limit of 6 vouchers per person. Can buy multiple vouchers to extend stay or as gifts. Other Information: The hotel is located in Ras Al Khaimah, UAE. The rates are inclusive of 5% VAT, 10% service charge and 7% municipality fee (of the room rate). Excludes tourism dirham fee of AED 10 per room per night, payable at the hotel's reception. No transfers included. Valid for stay in a standard double or twin room for 2 adults. Additional persons: Only one child below 12 years can be accommodated in the same room with no extra bed (no tickets included). Charges applicable: AED 50 plus taxes per room per night, to be paid at the hotel directly at check-in. Please note that extra tickets are available directly from Happy Holidays Tourism LLC, and not from the hotel. Jebel Jais Flight Zipline Limitations: minimum 40 kg, maximum 130 kg Height: minimum 1.22 meters What to wear: sports clothing and sturdy trainers or running shoes with good grip.