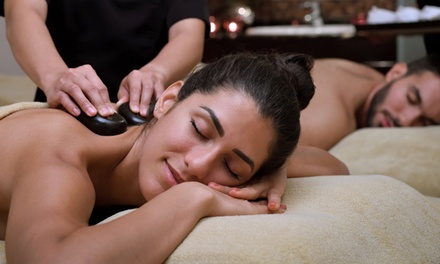 Up to two visitors can choose from a wide variety of five-star spa treatments while also enjoying other facilities with optional pool access
Price: AED159.00
Value: AED270.00
Discount: 41%
You save: AED111.00
Description
Choose from Six Options
AED 159 for a 30-minute five-star spa treatment with spa access for one (41% off)
AED 245 for a 60-minute five-star spa treatment with pool and spa access for one (up to 44% off)
AED 315 for a 90-minute five-star spa treatment with pool and spa access for one (up to 36% off)
AED 279 for a 30-minute five-star spa treatment each with spa access for two (48% off)
AED 439 for a 60-minute five-star spa treatment each with pool and spa access for two (up to 50% off)
AED 569 for a 90-minute five-star spa treatment each with pool and spa access for two (up to 42% off)
Choice of 30-minute spa treatments includes: back | foot reflexology
Choice of 60-minute and 90-minute spa treatments includes: Swedish | Thai | deep tissue | Balinese
The pool and spa facility available only on the 3rd floor.
The spa facilities include: pool | jacuzzi | steam room | sauna | relaxing area
Learn more about spa treatments
Abu Dhabi
King Abdullah bin Abdul Aziz , Al Saud Street

Terms and Conditions
Expires 4 months after purchase. Limit 5 per 1 or 2 people, may buy 5 additional as gifts. Booking required by phone, contact 026666888. Prior booking or cancellation (subject to availability) at least 24 hours in advance. Not valid during public holidays. Valid for option purchased only. Groupon prices are inclusive of VAT where applicable. E-voucher must be presented. See the rules that apply to all deals.