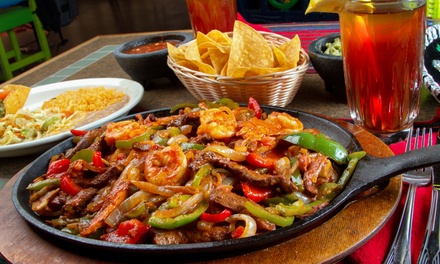 Customers can take a culinary journey to Mexico while they savour such meals as crispy corn tortilla chips or fajitas
Price: AED50.00
Value: AED100.00
Discount: 50%
You save: AED50.00
Description
Choose from Four Options
AED 50 for AED 100 to spend on food and beverages (50% off)
AED 75 for AED 150 to spend on food and beverages (50% off)
AED 100 for AED 200 to spend on food and beverages (50% off)
AED 150 for AED 300 to spend on food and beverages (50% off)
The menu may include: tortilla chips | quesadillas | fiesta fries | Mexican burger | fresh orange juice | single espresso
Click here to view the full menu.
Abu Dhabi
Saadiyat Beach Residences

Terms and Conditions
Expires 90 days after purchase. Limit 5 per person, may buy 5 additional as gifts. Booking required by phone, contact +971 2 676 1954. Prior booking/cancellation (subject to availability) at least 12 hours in advance. Valid for dine-in only. Valid Mon-Sun 10am-10pm. Valid for option purchased only. Groupon prices are inclusive of VAT where applicable. E-voucher must be presented. See the rules that apply to all deals.