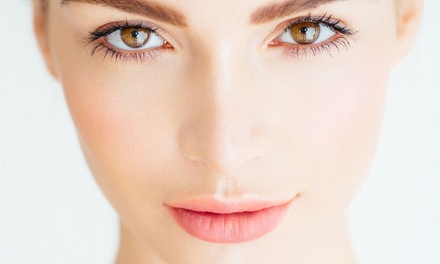 Improve complexion with diamond microdermabrasion, and pair it with HydraFacial treatment for a full revitalisation package
Price: AED119.00
Value: AED119.00
Discount: 0%
You save: AED0.00
Description
Choose from Six Options
AED 119 for one session of diamond microdermabrasion with a gold mask
AED 119 for one session of HydraFacial treatment with a gold mask
AED 169 for one session of HydraFacial treatment and diamond microdermabrasion with a gold mask
AED 349 for three sessions of diamond microdermabrasion with a gold mask
AED 349 for three sessions of HydraFacial treatment with a gold mask
AED 469 for three sessions of HydraFacial treatment and diamond microdermabrasion with a gold mask
What is diamond microdermabrasion?
It's an advanced exfoliating technique in which the surface layer of dead skin cells is gently removed. The treatment aims to reduce the appearance of fine lines, and generally encourage brighter complexions, while the La Vallée facial is designed to complement the treatment.
How can people prepare?
Clients are advised to avoid the use of chemical creams, electrolysis, peeling cosmetics and waxing five days before the treatment.
What does aftercare involve?
People should wash their face using only cold or tepid water for the first day, and avoid lotions and products with harsh ingredients. Their skin may look slightly red but this will fade over the following couple of days.
* This advertisement permission was granted by MOH based on the professional /activity licenses for both advertising facility and its healthcare providers who should deliver the service / products in accordance with the regulations and the standards set by the licensing authority. MOH is ABSOLUTELY NOT part of this deal or any of its terms. Buying the deal is exclusively the responsibility of the consumer. This ad is approved by the Ministry of Health. License No.MOH/PZ98418/19/03/2018
Dubai
Al Deyaar Building, Al Barsha Road, Al Barsha 1

Terms and Conditions
Expires 31 Jul 2018. Limit 10 per person, may buy 5 additional as gifts. Valid only for option purchased. Prior booking (subject to availability) at least 48 hours in advance, please call 054 449 9480 or 04 399 9717; provide coupon code. Printed voucher must be presented. 24-hour cancellation policy. Not valid on Fridays. Consultation included. Consultation and first session will be on same day. All sessions must be completed within validity period. Must be 18 or older. Consent form to be signed on the day of first session. Any skin irritations must be mentioned before session starts. Customers with sensitive skin may wish to consider their suitability before purchase. Not valid with any other offer. Valid for men and women. Valid Sat-Mon 10am-9pm. Groupon prices are inclusive of VAT where applicable. See the rules that apply to all deals.