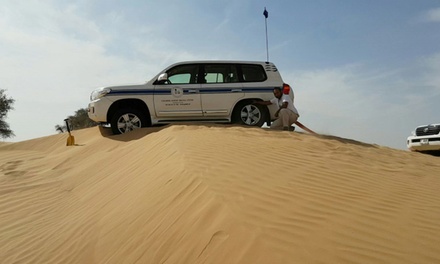 Learn about the equipment, techniques and safety requirements of desert driving during this one-day course
Price: AED189.00
Value: AED300.00
Discount: 37%
You save: AED111.00
Description
Choose from Six Options
AED 189 for an off-road desert driving course for one (37% off)
AED 349 for an off-road desert driving course for two (42% off)
AED 600 for an off-road desert driving course for four (50% off)
AED 219 for a one-hour self-driving desert course for one (37% off)
AED 359 for a two-hour self-driving desert course for one (49% off)
AED 500 for a two-hour VIP self-driving course for one (50% off)
Desert driving course includes: 45 minutes of driving | obstacle course | training booklet | certification
Self-driving course includes: lessons suited to clients' driving style | off-road driving certificate
Dubai
Galadari Motor Driving Centre,

Terms and Conditions
Expires 30 June 2017. Limit 4 per 1, 2 or 4 people, may buy 2 additional as gifts. Valid only for option purchased. Prior booking/cancellation (subject to availability) at least 24 hours in advance. Booking required by phone. Contact 055 192 2679 or 055 783 3570 or e-mail: [email protected] or [email protected] Printed voucher must be presented. Merchant reserves the right to cancel without prior notice based on availability, weather and vehicles. Valid for men and women. Pets not allowed in vehicles. Maximum 4 per trip for off-road desert driving course. Maximum 4 for self-driving desert course. Maximum 2 per VIP self-driving desert course. Includes 20-minute safety briefing. Customers will receive a course attendance certificate. Valid driving licence copy required. Valid passport photo copy (visa page if available). Not valid in conjunction with any other offer. If unable to attend the course, please provide written details within 24 hours to avoid paying additional fees. 15-minute window for latecomers. Merchant will charge extra for no-shows or reschedules. Please ensure to be physically fit to attend this course. VIP option includes welcome kit, GMDC off-road flag, certificate, and snacks offered during the course. Pricing verified using merchant's price list on 29 Dec 2016. See the rules that apply to all deals.