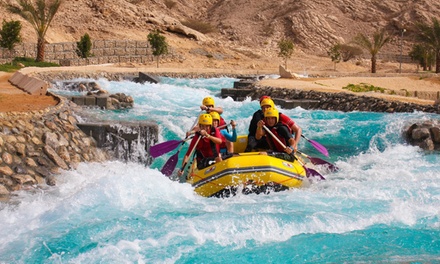 Price: AED475.00
Value: AED850.00
Discount: 44%
You save: AED375.00
Description
The Hotel
Strategically located at the feet of Jebel Hafeet mountain, Green Mubazzarah Chalets by Danat Hotels and Resorts offer modern accommodation close to numerous attractions of the region. Set amongst nature, close to hot springs and a man-made lake, the resort constitutes an ideal base for a fun-packed holiday. The surrounding area offers plenty of things to do, from swimming, wall climbing and rafting to kayaking and surfing.
Holidaymakers stay in a one- or two-bedroom chalets, all boasting a living room, kitchen, bathroom, and a private garage. They come equipped with air conditioning, bathrooms with hairdryers, satellite TV and dining tables. There are also microwaves and refrigerators for clients' convenience.
Other on-site amenities include a kids' playing area, gym, hot tub, and three heated outdoor pools.
Groupon's Guide To Al Ain
Al Ain is the second largest city in the Emirate of Abu Dhabi, and is also known as the Garden City due to its verdant landscapes.
Guests can experience one of the 'greatest driving roads in the world' which is the Jebel Hafeet Mountain Road that extends for 11.7 km up the mountain and offers the best view of the city scenery. At the foot of the mountain, travellers may visit the Green Mubazzarah, a collection of hot springs that form a lake. For guests interested in exploring the city, the Al Ain Zoo and Aquarium, Al Ain Golf Club or the Al Ain National Museum are just a few of the available attractions.
Green Mubazzarah Chalets by Danat
Green Mubazzarah Chalets

Terms and Conditions
Cancellation Policy: No modification or cancellation allowed after booking confirmation. Bookings are non-refundable and non-transferable to another destination once confirmed. Validity: Valid until 31 May 2018. AED 300 supplement applies for public holidays, payable directly to the hotel. If requested dates are not available, an alternative check-in date will be offered. Price for 2 adults and 2 children under 12 years old. Booking: Must book by 29 May 2018 and at least 48 hours prior to arrival. Booking required by phone: 0097137130300 or by email: [email protected], and subject to availability. Please attach your voucher to the e-mail. Required booking details: name, contact number, number of guests, date of stay, voucher code. Limit of 4 vouchers per stay. Multiple vouchers can be purchased to extend stay (this must be confirmed at the time of booking). Multiple vouchers can be purchased as gifts. Limitations: Cancellation or no show once booking confirmed will lead to the voucher being considered forfeited. Not valid in conjunction with any other offers or promotions at the hotel. Other Information: The hotel is located in Al Ain, UAE. Offer is inclusive of 5% VAT. Excludes 10.5% service charge (inclusive of VAT), 6% tourism fee, 4% municipality fee (of the room rate). A charge of AED 15 tourism fee per night per room (one-bedroom) and AED 30 (two-bedroom), payable to the hotel upon check-in. No transfers included. Valid for stay in one- or two-bedroom chalet for 2 adults and 2 children under 12 years old (using existing bedding), depending on the option chosen. Additional persons: Maximum occupancy (on existing bedding): one-bedroom chalet: 2 adults and 2 children under 12 years old, two-bedroom chalet: 4 adults and 4 children under 12 years old. Extra bed will be charged AED 60 per extra bed per night. Extra mattress will be charged AED 24 per extra mattress per night. Price is for room only. Meals not included. Original values based on stays in a one- or two-bedroom chalet until 31 May 2018. Limited availability for these dates. Original values verified on merchant/booking websites on 19 Feb 2018. Vouchers sold by Groupon International Travel GmbH.