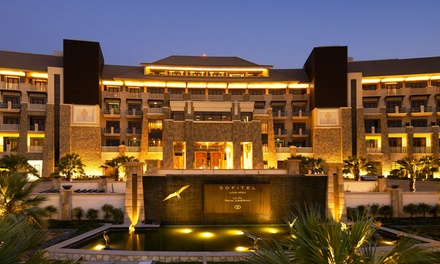 Visit this five-star hotel restaurant to enjoy a daily buffet at different meal times accompanied by free-flowing soft drinks
Price: AED85.00
Value: AED155.00
Discount: 45%
You save: AED70.00
Description
Choose from 15 Options
AED 85 for a breakfast buffet with free-flowing soft drinks for one (45% off)
AED 165 for a breakfast buffet with free-flowing soft drinks for two (47% off)
AED 325 for a breakfast buffet with free-flowing soft drinks for four (44% off)
AED 119 for a lunch buffet with free-flowing mocktails and soft drinks for one (50% off)
AED 235 for a lunch buffet with free-flowing mocktails and soft drinks for two (50% off)
AED 455 for a lunch buffet with free-flowing mocktails and soft drinks for four (52% off)
AED 775 for a lunch buffet with free-flowing mocktails and soft drinks for eight (59% off)
AED 150 for a dinner buffet with free-flowing soft drinks for one (37% off)
AED 290 for a dinner buffet with free-flowing soft drinks for two (39% off)
AED 575 for a dinner buffet with free-flowing soft drinks for four (39% off)
AED 999 for a dinner buffet with free-flowing soft drinks four eight (47% off)
AED 189 for a dinner buffet with free-flowing soft drinks and two house beverages for one (47% off)
AED 375 for a dinner buffet with free-flowing soft drinks and two house beverages each for two (47% off)
AED 735 for a dinner buffet with free-flowing soft drinks and two house beverages each for four (49% off)
AED 1,375 for a dinner buffet with free-flowing soft drinks and two house beverages each for eight (52% off)
Theme night dinner buffet:
Sunday- Italian Night
Tuesday- Asian Night
Thursday – Barbecue Night
Friday- Arabic Night
International dinner buffet: Monday, Wednesday, Saturday
Soft drink packages include: signature mocktails | water | juices | soft drinks | coffee and tea
Dubai
Sofitel Dubai The Palm Resort and Spa, Palm Jumeirah East Crescent Road

Terms and Conditions
Expires 4 months after purchase. Limit 5 per up to 8 people, may buy 5 additional as gifts. Booking required by email, contact [email protected]. Prior booking/cancellation (subject to availability) at least 24 hours in advance. Valid for option purchased only. Smart dress code applies. Under 6s eat for free. AED 80 surcharge for children aged 6-12, payable directly to the merchant. Must be 21 or older for house beverages. Breakfast time 6am-10:30am; lunch 12.30pm-3pm; dinner 6:30 pm-11pm. Valid Mon-Sun. For further enquiries, please contact the merchant directly at 04 455 5656. Groupon prices are inclusive of VAT where applicable. Printed voucher must be presented. See the rules that apply to all deals.