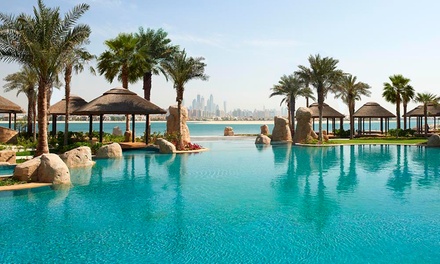 Guests can savour an unlimited grilled brunch sided with soft drinks or house beverages; full day beach and pool access included
Price: AED85.00
Value: AED85.00
Discount: 0%
You save: AED0.00
Description
Choose from 13 Options
AED 85 for rare Friday brunch with free-flowing soft drinks for one child aged 6-12
AED 315 for rare Friday brunch with free-flowing soft drinks for one adult
AED 619 for rare Friday brunch with free-flowing soft drinks for two adults
AED 1,185 for rare Friday brunch with free-flowing soft drinks for four adults
AED 445 for rare Friday brunch with free-flowing house beverages for one adult
AED 869 for rare Friday brunch with free-flowing house beverages for two adults
AED 1,665 for rare Friday brunch with free-flowing house beverages for four adults
AED 195 for striploin Saturday lunch with free-flowing soft drinks for one adult
AED 379 for striploin Saturday lunch with free-flowing soft drinks for two adults
AED 749 for striploin Saturday lunch with free-flowing soft drinks for four adults
AED 255 for striploin Saturday lunch with two house beverages for one adult
AED 499 for striploin Saturday lunch with four house beverages for two adults
AED 989 for striploin Saturday lunch with eight house beverages for four adults
All-you-can-eat Rare Porterhouse Friday brunch or All-you-can-eat Saturday Striploin lunch with choice of freshly prepared meats, grill, appetizers, salads and drinks. Complemented by full day pool and beach access for all.
All options include full day beach and pool access
dubai
Sofitel Dubai The Palm Resort & Spa, Palm Jumeirah, Dubai

Terms and Conditions
Expires 4 months after purchase. Limit 5 per 1, 2 or 4 people, may buy 5 additional as gifts. Valid only for option purchased. Prior booking/cancellation (subject to availability) at least 24 hours in advance, please email [email protected]; provide coupon code. Under 6s eat for free. Beach and pool access available 9am-6pm. Friday brunch and Saturday lunch valid 12.30pm-3.30pm. Smart casual dress code applies. For more information, please call 04 455 5656. Groupon prices are inclusive of VAT where applicable. See the rules that apply to all deals.