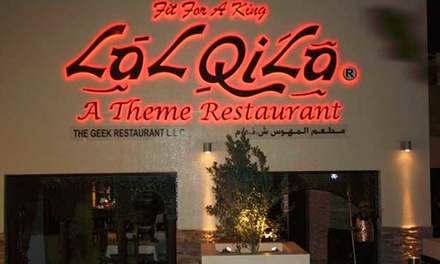 Enjoy a wide selection of Pakistani dishes served in the form of an all-you-can-eat buffet
Price: AED33.00
Value: AED33.00
Discount: 0%
You save: AED0.00
Description
Check Availability Make a Booking
Choose from Seven Options
AED 33 for a lunch or dinner buffet for one child
AED 47 for a lunch buffet for one adult
AED 67 for a dinner buffet for one adult
AED 94 for a lunch buffet for two adults
AED 134 for a dinner buffet for two adults
AED 188 for a lunch buffet for four persons
AED 268 for a dinner buffet for four persons
Hungry for Pakistani cuisine in Dubai?
With this Pakistani lunch or dinner deal, patrons can discover or revisit the flavours of the lesser-known subcontinental cuisine. These buffet vouchers have been put together with both individuals and families in mind, with options for kids or groups of four readily available. Patrons are invited to savour the delicacies of their choosing in a spacious Raj-like dining room, located just a short stroll away from the Etihad Museum. The establishment dishes up a plethora of vegetarian and non-vegetarian items, alongside decadent desserts for those with a sweet tooth. The venue encourages many happy returns among diners prone to culinary exploration, as it also caters for the enthusiasts of Indian, Chinese and Middle Eastern food.
Dubai
Jumeirah 1, Al Diyafah Intersection

Terms and Conditions
Expires 60 days after purchase. Not valid during Ramadan. Valid all week. Limit 3 per purchaser, may buy 3 additional as gifts. Only a maximum of 4 adults per table (4 x 1 person, 2 x 2 person, 1 x 4 person) can dine on the Groupon discount, any additional adults will be liable to pay full price. Mandatory booking required. Check availability here and book here. For More information phone, contact +971 (0)4 325 4778. Prior booking (subject to availability) at least 24 hours in advance. Cancellation/rescheduling at least 24 hours in advance.Cancellation/rescheduling at least 6 hours in advance. Valid only for option purchased. Lunch times: daily from 12.30pm to 3.30pm. Dinner times: daily from 7pm to midnight. Not valid during Eid holiday. Groupon prices are inclusive of VAT where applicable. E-voucher/Printed voucher must be presented. See the rules that apply to all deals.