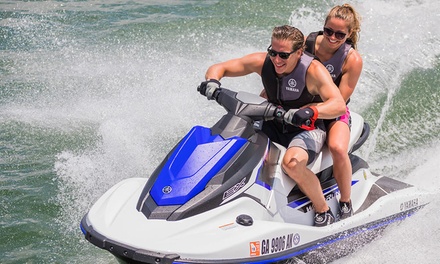 Clients can take in the views of the Gulf with a choice of three jet ski tours lasting up to 60 minutes
Price: AED175.00
Value: AED350.00
Discount: 50%
You save: AED175.00
Description
Choose from Three Options
AED 175 for a 20-minute jet ski tour of Jumeirah Fort Mina (50% off)
AED 250 for a 30-minute jet ski tour of the Burj Al Arab (50% off)
AED 400 for a 60-minute jet ski tour of the Burj Al Arab, the Palm and Jumeirah Beach Residence (50% off)
Available tours:
20-minute Jumierah Forth Mina tour
30-minute Burj El Arab tour
60-minute Burj El Arab, The Palm and Jumierah Beach Residence tour
Dubai
Seabreacher Water Sports Jumeirah

Terms and Conditions
Expires 60 days after purchase. Limit 2 per person, may buy 2 additional as gifts. Booking required; for Jumeirah please call 0565655845 or email [email protected]; for Fujairah call 0565682928 or email [email protected] Prior booking (subject to availability) at least 72 hours in advance. For groups over 10 people, booking required at least one week in advance. 48-hour cancellation policy. Valid for option purchased only. Max. 5 jet skis are allowed per 1 instructor. Max. 2 people allowed per 1 jet ski. Customers must wear safety vest at all times. The company have the right to cancel any booking in case of bad weather in compliance with UAE Cost Guard rules and regulations. Customers who are renting jet skis are all insured by the company for any emergency. However, each customer is performing games at own risk. Each driver will need to present a valid ID and will sign a personal disclaimer to ensure proper handling for the jet ski rented, In case of any accident, merchant's terms and conditions apply. Opening hours Sun-Sat 9am-sunset. Groupon prices are inclusive of VAT where applicable. Printed voucher must be presented. See the rules that apply to all deals.