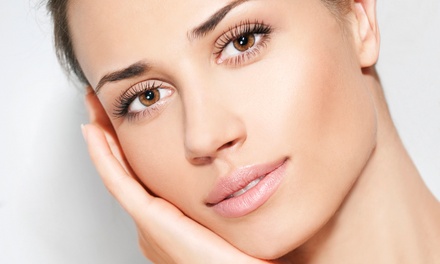 A professional provides facial injections on a choice of area that aim to temporarily reduce the visibility of fine lines
Price: AED299.00
Value: AED299.00
Discount: 0%
You save: AED0.00
Description
Choose from Six Options
AED 299 for facial injections on the gummy smile area
AED 399 for facial injections around the eyes
AED 449 for facial injections around the eyebrows
AED 599 for facial injections for the forehead and frown lines
AED 799 for facial injections for the whole face
AED 899 for 1ml facial filler for any facial area
What is a facial injection or filler?
An injection puts a small amount of filler into a chosen area with the aim of helping to temporarily reduce the visibility of fine lines. Facial injections are available for a choice of areas, and a filler treatment is available for targeting various small, specific areas around the lower face. Customers are advised to contact the merchant for further details on specific areas that can be targeted.
* Cosmetic procedures should be sought for therapeutic or reconstructive reasons only. This advertisement permission was granted by MOH based on the professional /activity licenses for both advertising facility and its healthcare providers who should deliver the service / products in accordance with the regulations and the standards set by the licensing authority. MOH is ABSOLUTELY NOT part of this deal or any of its terms. Buying the deal is exclusively the responsibility of the consumer. This ad is approved by the Ministry of Health. License No.MOH/XM91242/10/05/2018
Dubai
villa no 8/249 B, Wasl Road

Terms and Conditions
Expires 21 Jun 2018. Limit 2 per person, may buy 2 additional as gifts. Booking required by phone, contact 971 4 3084000. Prior booking/rescheduling (subject to availability) at least 48 hours in advance. Prior cancellation at least 24 hours in advance. Must be 18 or older. Valid for option purchased only. Not suitable for people with allergies. Not suitable for pregnant women. If found unsuitable for treatment a full refund will be provided. Va;id for men and women. Number of sessions: 1. Duration of session: up to 30 minutes. Valid Sat-Thu 3.30am-9pm. Printed voucher must be presented. See the rules that apply to all deals.