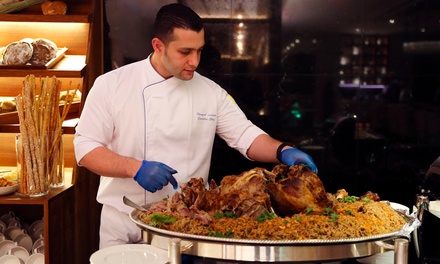 Up to four can head to this five-star establishment to enjoy either a buffet or a three-course set menu with two soft or house drinks
Price: AED39.00
Value: AED80.00
Discount: 51%
You save: AED41.00
Description
Choose from Seven Options
AED 39 for a 5* breakfast or lunch buffet or dinner set menu with two soft drinks for a child (51% off)
AED 79 for a 5* breakfast or lunch buffet or dinner set menu with two soft drinks for one adult (49% off)
AED 155 for a 5* breakfast or lunch buffet or dinner set menu with two soft drinks for two adults (50% off)
AED 309 for a 5* breakfast or lunch buffet or dinner set menu with two soft drinks for four adults (50% off)
AED 99 for a 5* breakfast or lunch buffet or dinner set menu with two house beverages for one adult (48% off)
AED 189 for a 5* breakfast or lunch buffet or dinner set menu with two house beverages for two adults (50% off)

AED 369 for a 5* breakfast or lunch buffet or dinner set menu with two house beverages for four adults (51% off)

Breakfast buffet includes fresh juices, soft drinks, tea and water
Dinner set menu includes: choice of starter, main and dessert
Children below the age of six dine free of charge.
Dubai
One Sheikh Zayed Road

Terms and Conditions
Expires 4 months after purchase. Limit 5 per 1, 2 or 4 people, may buy 5 additional as gifts. Booking required by phone or email, contact +971 4 501 8623 or [email protected] Prior booking/cancellation (subject to availability) at least 24 hours in advance. Child option valid for ages 6-12. Breakfast valid 6.30am-10.30pm, lunch valid Sat-Thu noon-3pm, dinner valid 7pm-1pm. Valid for option purchased only. Groupon prices are inclusive of VAT where applicable. E-voucher must be presented. See the rules that apply to all deals.