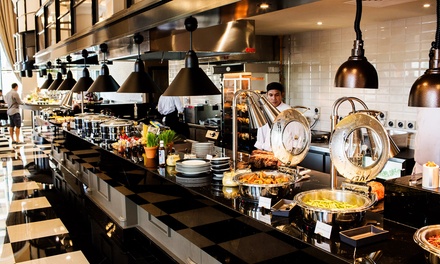 Patrons can discover world cuisines as they enjoy a themed dinner, including options such as Arabic meals on Sunday or seafood on Thursday
Price: AED125.00
Value: AED185.00
Discount: 32%
You save: AED60.00
Description
Choose from Six Options
AED 125 for a themed dinner for one, valid Sunday–Wednesday (32% off)
AED 135 for a themed dinner for one, valid Thursday–Friday (32% off)
AED 250 for a themed dinner for two, valid Sunday–Wednesday (32% off)
AED 270 for a themed dinner for two, valid Thursday–Friday (32% off)
AED 500 for a themed dinner for four, valid Sunday–Wednesday (32% off)
AED 540 for a themed dinner for four, valid Thursday–Friday (32% off)
Themes include:
Sunday: Arabic
Monday: Mediterranean
Tuesday: Silk Road
Wednesday: Russian
Thursday: seafood
Friday: international
Saturday: barbecue, family and kids
Dubai
The Palm Jumeirah

Terms and Conditions
Expires 30 Jun 2018. Limit 3 per 1, 2 or 4 people, may buy 3 additional as gifts. Booking required by phone or email, contact +97144551101 or [email protected] Provide Groupon code, number of guests and preferred date. Prior booking/cancellation (subject to availability) at least 24 hours in advance. Dinner valid 6pm-11pm. Items served vary from day to day. Groupon prices are inclusive of VAT where applicable. Valid on option purchased only. Printed or e-voucher must be presented. See the rules that apply to all deals.